1993 Honda Civic EX Information
The 1993 Honda Civic EX comes from the fifth generation of Honda Civics. The generation starts with the 1992 line first introduced in September of 1991. This front wheel drive car comes with a steel unibody and front engine. In fact, with just over 2.1 tons this car can go 0-60 in 8.8 seconds and a quarter of a mile in 16.8 seconds.
The production for this particular model is just over a quarter million. The 1.6-liter 4-cylinder engine has 125hp with a torque of 106 lb.-ft. Just short of 141/2 feet long and just over 5 1/2 feet wide, the Honda Civic EX rates at 29mph in the city and 35mph on the highway miles per gallon. this model came in both a sedan and a coupe.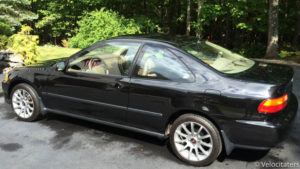 This 1993 Honda Civic EX is For Sale.
Arguably, there are quite a few of these models still on the road, but I would be hard press to find one in this condition. This 5-speed manual transmission begs to be driven; however, this car is more for a collector.  Above all, this particular car has 15,579 miles and is in excellent condition and about as close to mint as you can get for a car with any miles on it. Moreover, the owner took extra care to keep this car well-maintained and was kept in a garage. Furthermore, take a look at that engine! It looks spotless! This would make a great show car or even a museum piece.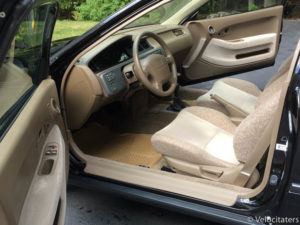 Strangely enough, the car is in the northeast, where the elements beat up cars during the winter. Obviously, this one has not seen any of those bad elements. The watermark on the pictures is to protect the privacy of the owner, as I did not take them. This even sports a cassette player. You can judge for yourself from the pictures below. If you want bigger pictures, click on the link for the gallery.